Metal embossing machine takes advantage of cold roll forming principle to make various types pictures on the metal. The material thickness could be from 0.2 to 1.2 mm. The material could be Aluminum (Lv Bo), forming embossed decorative aluminum strip, color coated steel plate, hot galvanized plate, copper plate, cold-rolled plate, stainless steel plate and others.
For the embossed metal sheet could be at the following places: Kitchen cabinets, appliances, freezer, refrigerator, building facades, roof tiles, elevators, compartment floor, door manufacturing, corridor anti-skid, machinery and other industrial applications, pressing plate pattern not only beautiful patterns, uniform, three-dimensional sense of strong, also increased part of the plate thickness and strength.
Here are some finished product pictures for your reference:
Take one of the drawing profiles for your reference: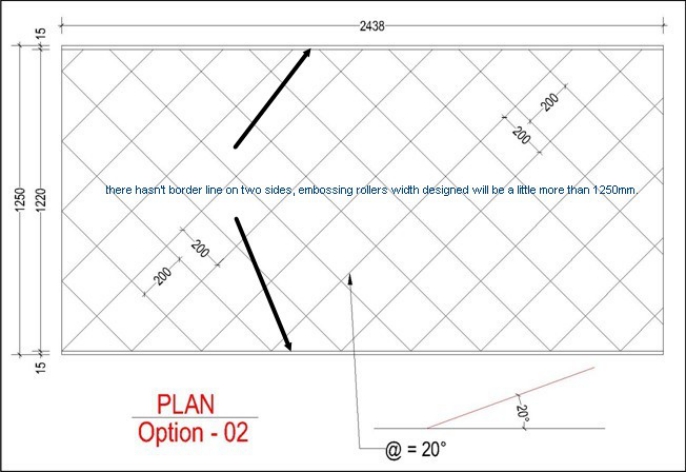 Here is the machine picture for your reference:
Embossing Machine Main Parameters
| | |
| --- | --- |
| Roll Formed Profile Type: | cross bead pattern (200x200mm) |
| Material maximum width: | 1250 mm |
| Material length | Optional |
| maximum thickness: | 0.4mm-1.2mm |
| Sheet Material | Aluminum sheets or steel sheets |
| Motor power: | 5.5Kw, 220V, 3 PHASE |
| Embossing rollers diameter | ¢300mm |
| Line speed | 3--6m/min |
| Driving device | Cycloidal gear reducer with chain |
| size (L x W x H)mm | 1800×1200×1700 |
| Weight | 3500kg |
Safety and guild device
Operation and safety instruction
Check safety and guild device work is ok or not every week.
Do not make guild device sliding or put your hands in when machine is running.
Do not touch strap wheel shaping roller when machine is running.
Do not throw anything into machine.
Adjust shaping roller
Adjust shaping roller through adjust bolt, when finish it, screw down locknut.
Maintenance
Maintain and check every 6 months, after used machine, check is there sundries in or on machine.Electrical apparatus element and oil use in gear case can choose according to the situation on the ground.
Installation and debugging
Machine can be installed on the ground check all bolts and lock spots. When adjust roller, from one stage to another stage, do not omit every stage. When through inner core, button up material, then impact on upper roller. Clean up junk in inner core timely.
Circuit diagram
Head diameter:10mm
Rivet diameter:4.6
Head diameter:10.75mm
Rivet diameter:5.95mm
22=0.083=0.0139 USD
29=0.125=0.0208 USD
30=0.09=0.015 USD
39=0.135=0.0225 USD
34=0.094=0.0157USD
40= 0.099=0.0165 USD
45=0.105=0.0175USD
47=0.11=0.0183 USD
Material: 1 T zine coated
Here is the machine working video for your reference:

For this machine if you need to know more information, please contact us as soon as possible.