Shutter door slat roll forming machine according to our knowledage there are serval types: European style shutter door machine, Australia style shutter door machine, shutter door with big holes, shutter door with perforation holes machine, shutter door U stud forming machine and others. No matter which type is made by the following process:decoiler→ sutomatic punching →feeder guide →roll forming→ flying cutting saw →run out table.
The roll forming machine can process Galvanised roller shutter door slat in bath and the desgin are in fashionable and widely used. Rolling Shutter Slat Machine With the highest security in rolling fire doors, Rolling Steel Doors, Fire Doors, rolling shutter, offshore rolling doors, offshore rolling fire doors, storm doors, Rolling steel hurricane doors, smoke doors, air-leakage doors, counter shutters, insulated doors, rolling sound doors, and storm shutters. rolling steel doors, rolling steel fire doors, rolling fire shutters, insulated fire doors, rolling steel grilles. Roller shutter garage doors are designed for use in industrial, commercial, airports, retail, hotel, institutional, malls and shopping centers.
Here are some popular drawing profiles for your refernence: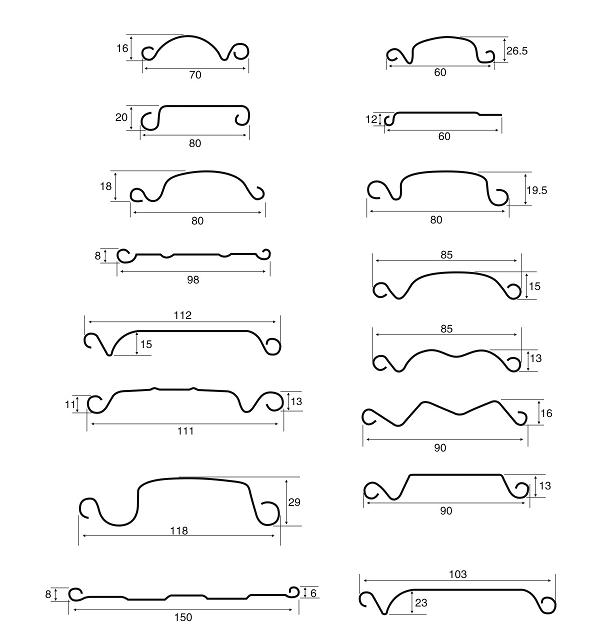 Here are shutter door slat finished product pictures: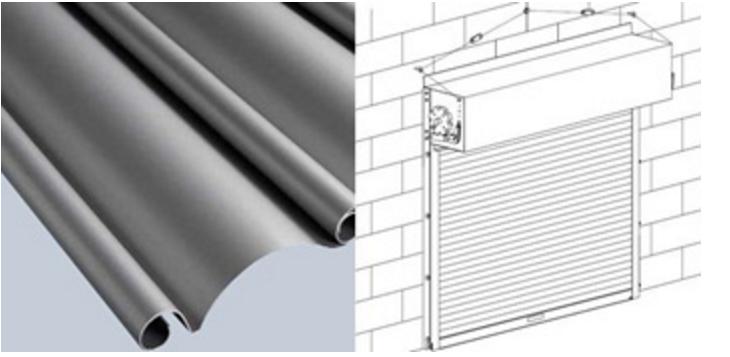 Based on the drawing profile, we design machine like following: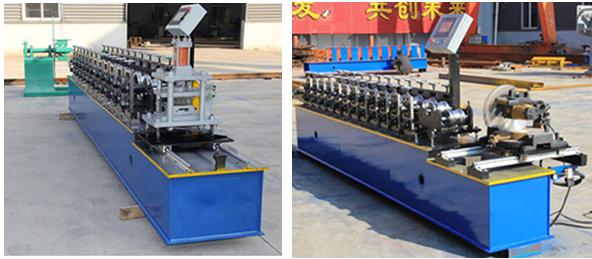 Mian roll forming machine parameters for your reference:
a. Number of forming steps: 12 stations

B. Shaft material: 45# steel with quenched treatment, precision machined,
The diameter: ¢50mm
c. Roller material: Cr15Mov with quenched treatment
d.Transport: by gear
e. Forming speed: 8-10m/min
f. Motor: 4kw
g. Voltage: 380v, 50Hz,3 phase
h. Structure: independent stand
For the shearing system, we have two options for your reference. The first one is flying cutting saw, shearing can keep perfect shape of the shutter door. For the second one, hydraulic shearing, it has perfect shearing end, the shearing end is smooth, no burr like the above pictures I showed above.
Why choose ZT Shutter door slat machine?
1.Pillar stand frame to make sure machine working steady, easy to adjust and repair in the further.
2.High quality elements like PLC, motor and others. They can make sure machine working long time.
3.Gear transmission to make sure working fast and steady.
4.Two options of shearing system. Meanwhile based on flying cutting saw, we have our new design to make sure shearing fast and no burr.
Related profiles roll forming machines for rolling shutter door system
Roll forming machine for production of galvanised steel rolling shutter door profiles, including the shutter slat, side guides (track), boxes profiles, rolling tubes, etc. 
Here is the shutter door machine working video for your reference:


For this machine, if you have any problem, please contact us at any time.