Angle beads roll forming machine could be used to make wall angel beads in batch and fully automatically. For the wall angle beads, it is also called draywall angle, it is used to protect the coner of wall. Angle beads are strips of thin sheet metal or plastic that is used to cover the outside corners of plastered or drywalled walls. They are long corner strips that are usually made of solid material right at the corner and made of perforated or meshed material at the edges. In the market, there are many types wall angle beads, here are some pictures for your reference:



Angle beads roll forming machine is same like other roll forming machines, it can make the wall angle beads in batch. Different with other machine, it needs to do the punching first, it make the metal strip to holes or with diamond holes and then do the roll forming machine. For the punching machine, our factory specially deisgned and got the pattern. The punching mold cuold be used repeately after one or two times fixing. Here are more information and parameters of the angle beads machine for your reference: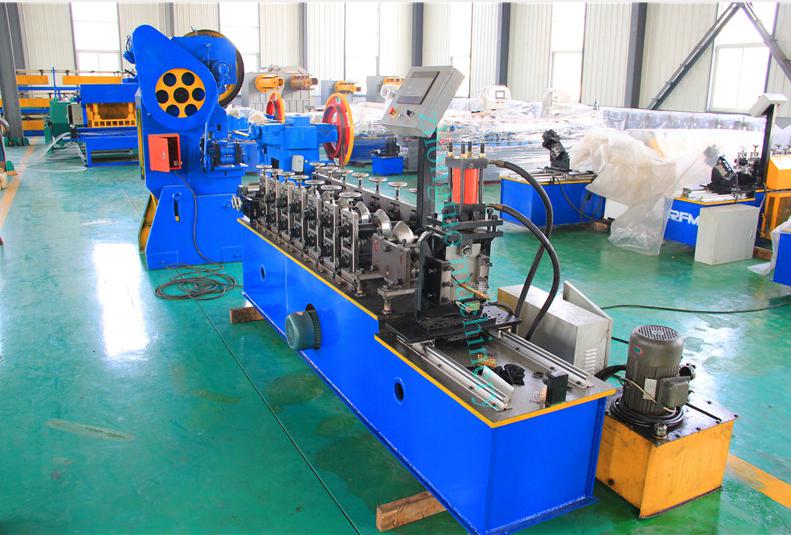 Punching machine for netty edge:
Working speed:110-130 time/min
Main power:3kw
Servo coil feeder with PLC control system
Punching Pressure: 25 Ton
Main roll forming machine:
Length of the main part: about 3500х800х1400
Weight of main part:3 tons
Voltage : 380V/50HZ3Phase (as customer's request)
Roller fixer : Guide column
Frame : middle plate welded
Memorial arch frame type
Frame thickness:20mm
Drive mode: gear
Material of rollers: GCr12MoV
Material of shafts: 45# steel with tempering
Diameter of shafts: φ40mm
Number of rollers: 9 rollers
Main power: 3 kW
Cycloidal planetary gear speed reducer)
The different sizes can be produced on this machine
by adjusting the feeding width.