Stud and track roll forming machine could be used to make single stud, single track or combine track and stud by one machine. The sizes could be customized according to customer requirements. And meanwhile one machine could be used to make many types of the sizes and shapes. Our Stud and track roll forming machine also allows you to press logo, punching company name or print date you need on the finished products.
For the drawing and finished products of Stud and track for your reference:


The Stud and track roll forming machine is composed by the following elements: Decoiler, leveling beach, roll forming machine, shearing system, punching unit and runout table.
Here is some brief introduction of each element:
1.Decoiler
Usage: It is used to support the steel coil and uncoil it in a turntable way. Passive uncoil pulled by roll forming system
Loading capacity: 1.5T
Uncoiling width: 300mm
Inner diameter: 450-550mm
2.Feeding and leveling
This part will level coil to make sure it is neat clean and straight. Meanwhile the roller will punch dots at both side of the C channel.
3.Main roll forming machine
It takes design as pillar style, Memorial arch frame type and the material thickness is around 25mm. Driving mode by gear, the roller material is GCr12MoV. And the shaft we will use 45# steel with tempering in the diameter of 50mm. Normally we will use 12 roller stations to make the perfect shape of the stud and track.
4.Pressing logo and shearing system.
Punching logo and shearing will be done within one unit. For the shearing, in order to enhance working speed, we will use flying track and cutting saw system.
Material of blades: Gcr12 quenched
Power supply: hydraulic power
Frame: Pillar style with rack & pinion system
Stroke switch: non-contact photoelectric switch
5. Electric Control System
1. Adopted PLC, transducer, touch panel from Delta Taiwan to ensure high speed with stability, precision and lifetime.
2. Other electric element is Delta
3. Equipped with movable switch, air break, radiator, transformer & electric leakage protector for operation convenience and safety.
Installation:
Stud and track either could be used for ceiling participation and drywall participation. Here is one picture about the ceiling participation.
Here is machine picture for your reference: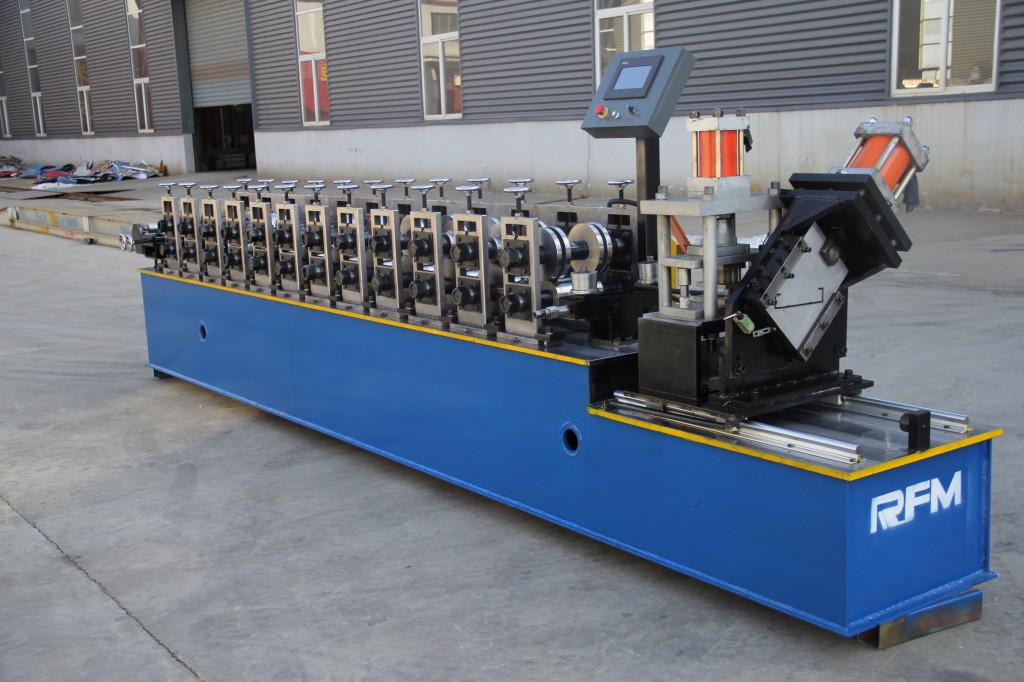 For the stud and track used in drywall: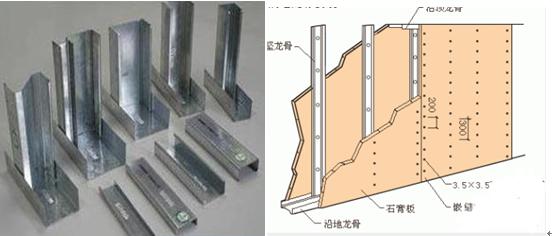 For making ceiling or drywall installation, you may also need the following elements.


When need for final quotation, please contact us at any time.