When you need to make C purline, Z purline, U purlines together, this C & U & Z purline sizes interchangable machine will be your best choice. It can help you make all shapes and various sizes easily and fully automatic.
Features of the C & U & Z purline machine:
(1) Simple in construction,beautiful in appearance as it takes structural steel for welding in the whole. It is good in bearing capacity.
(2) For making sure the quality and capability of equipment, other parts of the machines were bought from well-known enterprise.
(3) It specifies length, shape, punching position, cutting position automatically and accurately, so the product is beautiful in head and end shape.
(4) Easy to install and use, it is good for factory use.
(5) Low noise but high efficiency.
Take the following drawing profile for reference: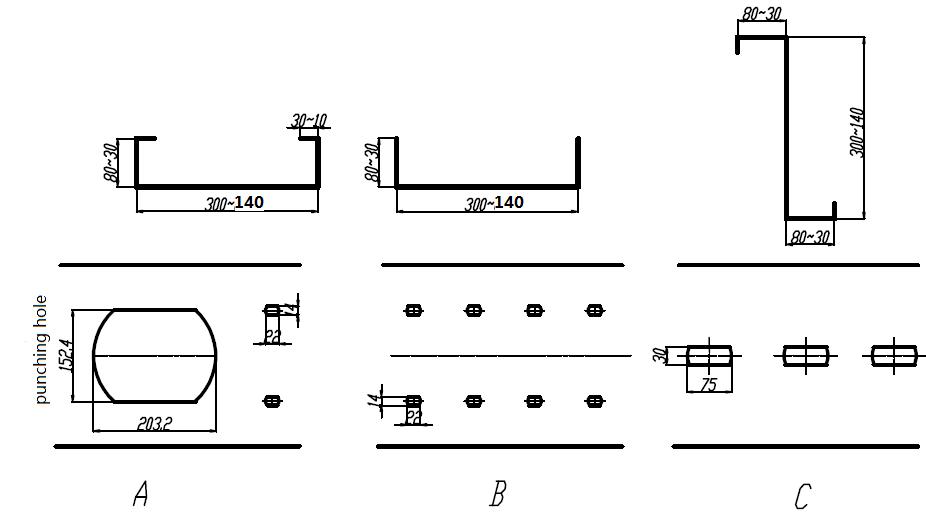 Here is the machine picture for your reference: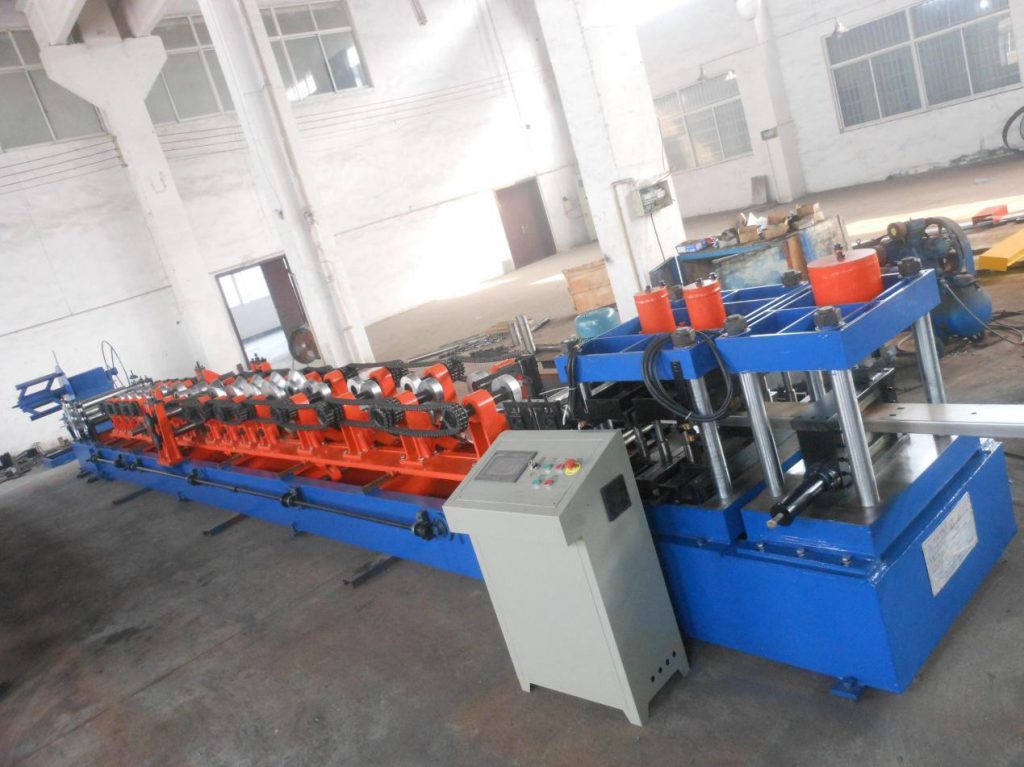 Main elements of the roll forming machine:
| | | |
| --- | --- | --- |
| NO. | Name | Parameters |
| 1 | 5T hydraulic decoiler | With supporting arm and pressing unit |
| 2 | Loader and leveler then punching | Adjustable center of the forming rollers and of sufficient length to prevent lateral movement of the strip on its entry to flattener. |
| 3 | Pre-Punching | Base on customer provide punching drawing. |
| 4 | Main roll forming machine | Check details below |
| 5 | Correction adjust system | Check details below |
| 6 | Output table | Table for reception of the cut profiles |
| 7 | Hydraulic station | China famous brand |
| 8 | Control desk | PLC brand: Panasonic |
Main machine parameters and introduction for your reference:
1.Material of the profile: steel sheets for cold bending according to EN 10346 or equivalent requirements, steel grades to (at least) S450 GD, or other grade of steel with equivalent yield strength, with metal coating from Z100 to (at least) Z350;
2.Thickness range: 1.5-4.0mm
3.Maximum production speed: not less than 10 meters per minute (for non-perforated profiles, excluding cutting)
4.Main motor power:15kw, AC motor, motor inside of main machine
5.Adjust flange and width motor: 1.5KW x3 motor inside of main machine.
6.Machine Voltage, Frequency, Phase:440 V, 60 Hz, 3Phase
7.Roll station:20 stations
8.Roller material:ASTM52100 chrome plated surface with hardness 58-62 degree ,CNC,
9.Shaft diameter: ¢76mm material: SAE1045 with quenching and tempering
10.Transmission: by chain, one inch, double line
11.Roll former has leveling bolts in the base for adjust the leveling
12.Machine base frame adopt H beam welding steel
13.In the main roll forming machine have 2 buttons for urgency stop if happen any malfunction.
14.Machine adopt iron cast as station to make machine in strong
15.To avoid accidents, all of drive part adopt protect cover
16.Color of machine: Blue and yellow (or base on customer request)
17.Quantity: 1
Correction adjust system
1.Function: make the end product in straight, left and right, up and down
2.Adjust by hand wheel, manual
3.Roller material:ASTM52100 chrome plated surface with hardness 58-62 degree ,CNC,
4.Color: blue or base
For this machine, if you want to know more information, please contact us at any time.