Half Automatic Flat T bar roll forming machine is the machine to make ceiling T bar by roll forming principle. Half automatic machine means that you need to punch the holes and ends of the flat T bar. Same as other T bar, flat t bar also has main T and cross T two types. Normally the T bar sizes 32x24x3600mm; 38x24x3600mm 38x35x3600mm; 32x15x3600mm etc. Here are some T bar pictures for your reference:


Here is the drawing profile of T bar for your reference:

Simple and brief introduction of half automatic T bar roll forming machine:
| | | |
| --- | --- | --- |
| NO. | Item | Brief introduction |
| 1 | Frame table | Material: Carbon Steel, Thickness: 20mm, Polished, Anti-rusting processing |
| 2 | Roller | Material Cr12  Inner diameter 40mm, Min OD 90mm, Hardness HRC 55-56, Symmetry in the range of 0.05mm, 16 roller stations |
| 3 | Transmission | Chain Drive or Gear |
| 4 | Stitch | Four Rollers real stitch can also be used for fake stitch. |
| 5 | Side Plate | Thickness 30mm, Polish 6 sides, high precision boring |
| 6 | Principal axis | 45# steel, tempering heat treatment, mill grinder precise making |
| 7 | Electronic control system | PLC programmed, Touch Screen, full automatic controlling system. |
| 8 | Stamping Moulds | Material D2, Hardness HRC 58-60, Precise milled, precise making, easy to removable parts. |
Advantages of Zhongtuo Half Automatic Flat T bar roll forming machine:
●Full automatic production to make the T gird shape. For the finished ending making and punching hole, needs another punching machine.
●Machine working speed is around 25meter per minutes and speed is adjustable.
●Hydraulic punching for anti slip holes and the company logo if you need.
●Hydraulic shearing and servo flying system.
●The product punching die and cutting off blade, we use SKD11 as material, long time to use.
●PLC control system, Human-Machine interface, portable and touch screen. The brand of PLC is Panasonic.
Here are some pictures for your reference: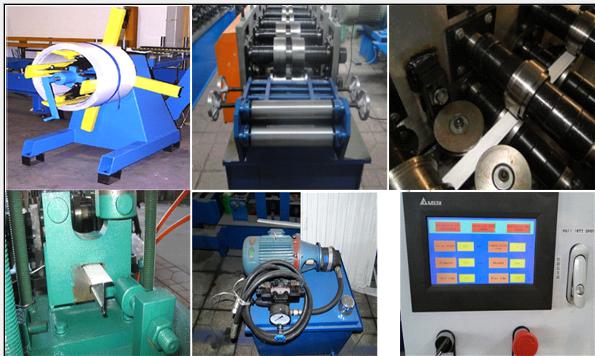 For more information of the flat T bar machine for your reference:
1.By the half automatic flat T bar machine, main T and cross T cannot be made by one machine, which mean at least needs two sets machines: Main T bar machine and cross T bar machine.
2.For the punching machine, you can use one set and two sets of molds.
Here is flat T bar roll forming machine video for your reference:
Hot Products