In the market, there are many type gutters like K-style, Half-round, and Box type. All those type we could make, but there I take the half round type for example. All those gutters could be used for residential and commercial industries. We develop gutter machines according to customer drawing profiles.
It is known to that entire half round gutters are attached to the roof edges and used to draw water down and away from the house and its foundation. Most gutters consist of sections of gutter, drop outlets and downspouts. Gutters can be constructed out of aluminum, copper, galvalume, galvanized steel, copper penny aluminum, freedom gray copper, preweathered zinc, copperplus, designer copper aluminum, lead coated copper, paint grip steel.
For the design, we do some innovative range of gutter machines for the production of half round gutters with traditional profiles and width 280, 333 and 400 mm. there are two types: one sizes or linear sizes. Here are some drawing profiles for your reference: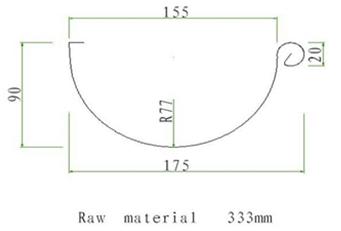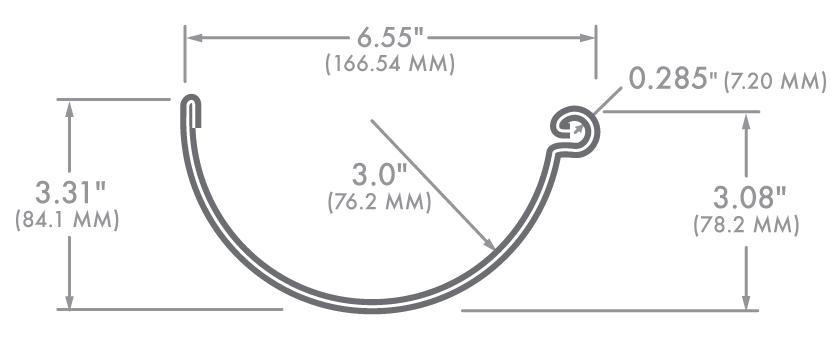 Here are some guttesr rolls forming machine paramters for your reference:
The machine is composed by manual decoiler, leveling beach, roll forming machine, shearing system and runout out table, PLC control sysyem, and hydraulic system.
Working speed: 3—8m/min
1-Manual decoiler
Feeding type: Automatic feeding
Structure: Cantilever
Weight: 3 tons (according to customer requirement)
Coil inner hole: from 450-550 mm;
Coil diameter: ≦ ¢1200 mm
Expansion: Manual
2-Entry Beach
Put the raw material (steel plate) through the beach to manufacture and process, it can guarantee that the products are neat, parallel and everything is uniformity. Please refer to the equipment regulation to know the function of locate angle iron.
3-Main roll forming machine
Frame: Longmen wallboard type
The roller number: 18 rollers
Roller material: Cr12
Shaft diameter: 60mm, 45# steel
Roller heat treatment: Quenching, HRC58-62
Material thickness: 1.5 mm to 2.0 mm
The standard cutting size: 198 mm (According to customer request design of blade shape)
Standard forming size: 185 mm
Length tolerance : ±0.1 mm
Diagonal tolerance : ±0.1 mm
The motor power: 3.5 kw
Voltage: 380V/50HZ/3Phase (As customer's request)
4-Hydraulic cutting
Cutting type:Hydraulic cutting              Blade material: Cr12MoV
Blade quantity: 1 set              Cutting frame: 1 set
Mould material: Cr12MoV              Motor power: 3 kw
5-Products receiving table
It adopts welded steel and supported roller to transmit the products.
Table length : 1.5m/per set
Table quantity: 1 sets
6-Electric control system
The whole line adopts imported PLC control, LCD touch screen.
Voltage: 380V/50HZ/3Phase (As customer's request)
Language: English and Chinese             Automatic length measurement
Automatic quantity measurement              Length Tolerance: 3m±1.5mm
Length inaccuracy can be amended easily.