Downspout, Downpipe, Roof Leader, Downcomer all refer to the downpipe system which are used for collecting rain or water on the top of the building. The downpipe main function is that Collecting roof rainwater, and concentrating on the rainwater pipes lay below the ground. There are many shapes; here I take the square shape down pipe for example. The water is directed away from the building's foundation, to protect the foundations from water damage. The water is usually piped to a sewer, or let into the ground through seepage. Decorative heads are sometimes added, these being low-height gargoyles.

Take the following drawing profile for your reference: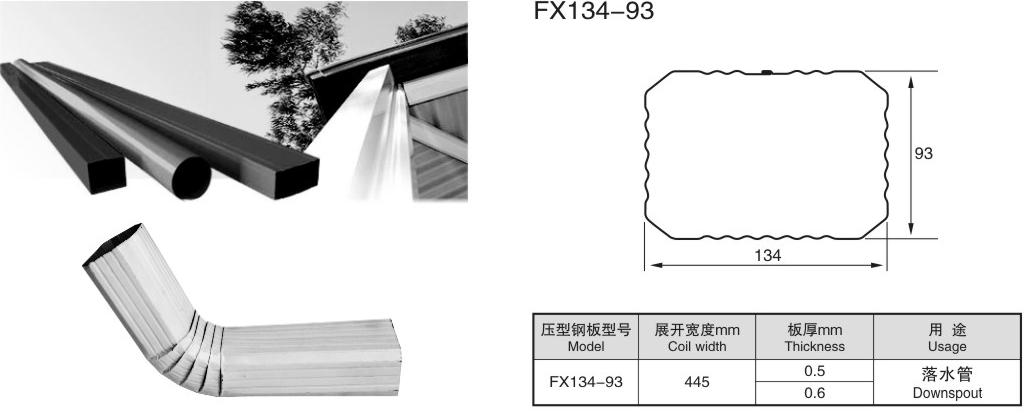 Square downpipe rolling forming machine parameters for your reference:
The machine is composed by manual decoiler, leveling beach, roll forming machine, shearing system and runout out table, PLC control sysyem, and hydraulic system.
Working speed: 3—8m/min 
1-Manual decoiler
Feeding type: Automatic feeding
Structure: Cantilever
Weight: 3 tons (according to customer requirement)
Coil inner hole: from 450-550 mm;
Coil diameter: ≦ ¢1200 mm
Expansion: Manual
2-Entry Beach
Put the raw material (steel plate) through the beach to manufacture and process, it can guarantee that the products are neat, parallel and everything is uniformity. Please refer to the equipment regulation to know the function of locate angle iron.
3-Main roll forming machine
Frame: Longmen wallboard type
The roller number: 18 rollers
Roller material: Cr12
Shaft diameter: 60mm, 45# steel
Roller heat treatment: Quenching, HRC58-62
Material thickness: 1.5 mm to 2.0 mm
The standard cutting size: 198 mm (According to customer request design of blade shape)
Standard forming size: 185 mm
Length tolerance : ±0.1 mm
Diagonal tolerance : ±0.1 mm
The motor power: 3.5 kw
Voltage: 380V/50HZ/3Phase (As customer's request)
4-Hydraulic cutting
Cutting type:Hydraulic cutting
Blade material: Cr12MoV
Blade quantity: 1 set
Cutting frame: 1 set
Mould material: Cr12MoV
Motor power: 3 kw
Square downpipe rolling forming machine pictures for your reference: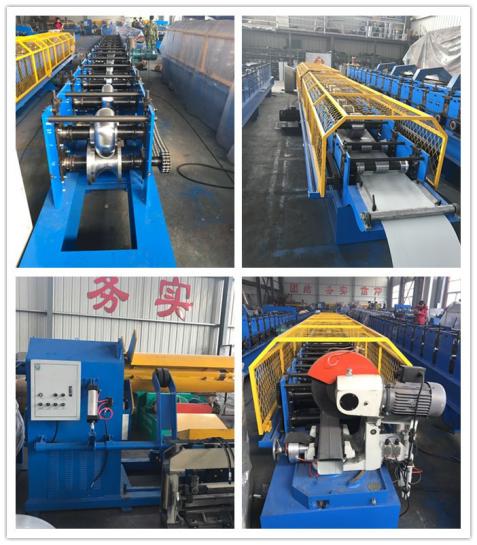 Where downpipes will be used in our daily life:


For any question related to the downpipe rolling machine, welcome to contact us at any time.