Steel plate embossing machine is the tool, which could be used for stamping logo, tag, patterns or others on the metal for some special functions like anti-slip on the floor decking, keeping warm for the vehicles. Different with the small embossing machine in the market, ours could help you embossing large scale metal plate from coil and then to recoil, the width of the steel plate could reach 1.5 meters or more. The working principle of the metal embossing machine is that through two rollers which have been curved patterns you need give pressure on the metal and then make the pattern on the steel plate.
Here are some samples for your reference:



All above samples could be made from steel common plate to recoiled steel plate with flower type.
The following information is about the metal plate embossing machine:
Whole Line of Peal Embossing Rolling Machine
First Part: Brief parameters of the embossing machine
1.machine size:3300×1200×1500mm;
2.Embossing roller size:Φ320×1400mm;
3.Embossing type:Pearl samples;
4.Roller material:42CrMo alloy steel
5.Hardness of rollers:Surface to be case hardened 55 to 58 Rc, Top Roll/Bottom
Roll: Driven by adjustable herringbone gear set
6.Embossing mode:Up and down concave and convex roller to press;
7.Pressure regulation:Screw pressure;
8. Supported material: 0.5mm×1200mm Aluminum coil
9. Motor power: 480Volt, 60Hz, 3 phases
Brand: Siemens
10. Reducer: China World Trade Center speed reducer
11. Bearing: domestic brands in Wafangdian City
12. Working Speed:0-18m/min
13. Delivery Time: 50-60 working days
Operator  
Operator controls labelled in English
Manuals: Operator and maintenance manuals in English
Second part: Decoiler & Recoiler
The parameters of the Decoiler:
1. Machine size:3900×1200×1800mm;
2. Inner diameter:Φ500-510×1350mm;
3. Max loading weight:2500Kg to 5000kg;
4. Cylinder size expansion: hydraulic cylinder control;
5. Roll brake: magnetic particle brake control;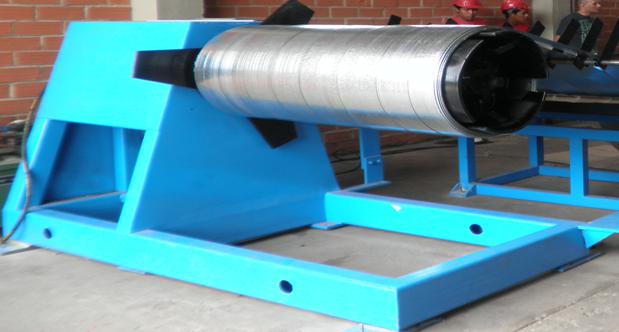 Ⅱ、Recoiler parameters :
1、Machine size:4100×1200×1800mm
2、Style:Φ500-510×1350mm;
3、Loading weight: 2500Kg to 5000kg;
4、Cylinder size expansion: Hydraulic cylinder control
5、Motor:15Kw Frequency conversion motor SIMENS
linear speed 0-20m/min;
6. Roll Loading: Hydraulic Cylinders
Third part: Shearing system
1.Type of cutting power: Hydraulic
Cutting balde material: Gcr12, quencing at 58 to 62 degree to make sure hardness and long time to use
Cutting tolerance:±1mm
Cutter blade more pair we will give one more as spare part
Cutter quantity: 1
Working pressure: 20 MPA
Note: we add this before the recoiler, for after embossing, the coil change to thick and the diameter will be quiet big. For example, maybe the coil just 100 meter, the outside diameter will be quite big. So this is nessary.
2. Hydraulic system
Hydraulic oil 46#
Hydraulic power 4kw
Cutting length As required
Brand Japan Youyan series
No distorting or wasting. High level safety factor.
Fourth Part: Control Device control By PLC
PLC language English and or others (or as required)
Touch screen: 4.7Inch
Function: Automatic length and quantity measurement
Brand: Mitsubishi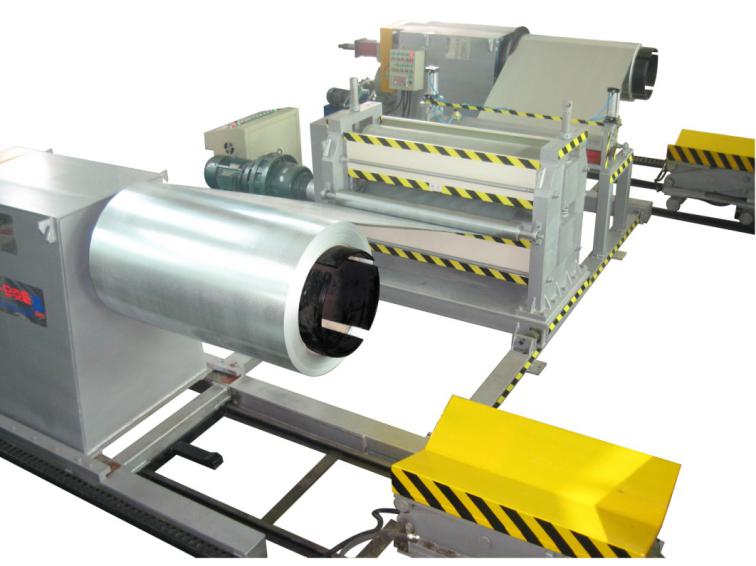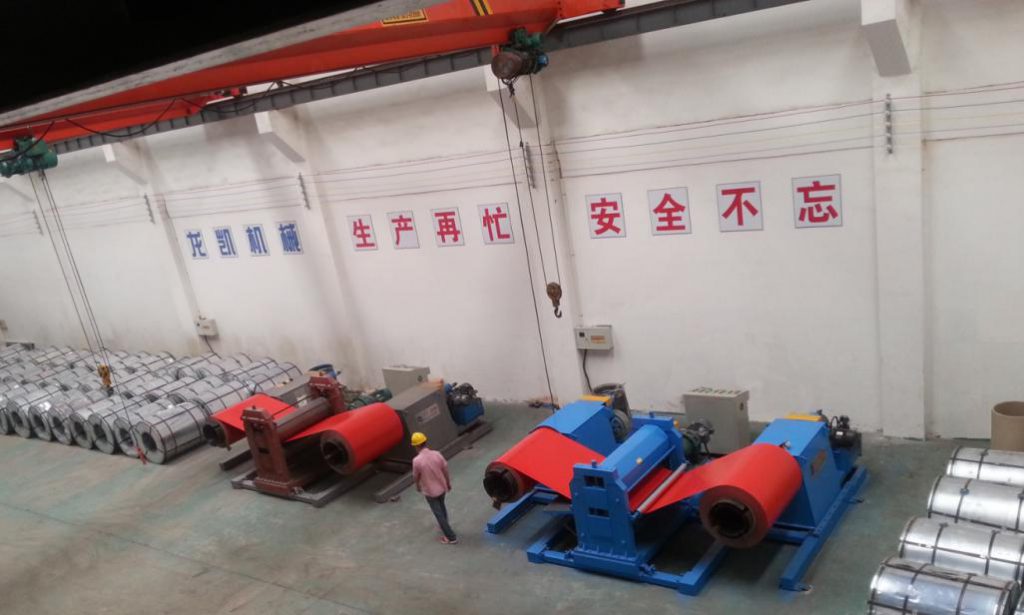 For this machine if you need to know more information, please contact us as soon as possible.