Angle Channel Truss Furring Roll Forming Machine
Angle Channel Truss Furring Roll Forming Machine
China Best Sale Ceiling T Grid Machine With Good Quality
1. Model:"T" bar
2. Raw material: galvanized steel sheet, Prepainted steel shee
Galvanized steel sheet: 0.2—0.35mm, prepainted steel sheet: 0.25—0.3mm
3. Production specification: T keel 38 x 24mm (H x W)
4. Technical parameter:
a. Voltage 380V 50Hz (adjusted according to customer's requirement)
b. Roll forming machine power: 3.0 KW; drive motor of hydraulic station: 15KW; transmission motor: 1.5 KW
c. Material of roll: Cr12mov quenching hardness HRC 58-
5. Craft: uncoil --- form --- align --- automatic punch, cut --- finish product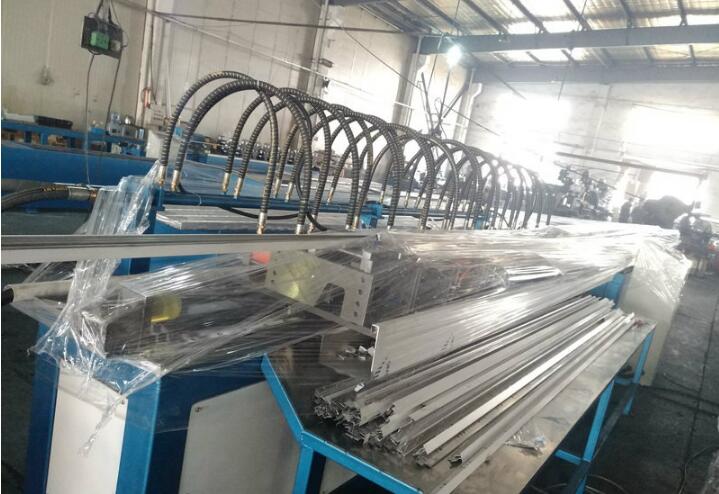 1. Continuous automatic produce
It enters punching section after roll forming. Forming machine will stop to work once the length reaches setting length. The rotary encoder will signal to punching machine for punching. The finish production will fall automatically after punching. Conveyor will send out finish production from punching machine. And then forming machine will start to work; so that complete cycle operation.
Transmission system: drive by servo motor; install gearbox; whole production line is gear drive.
Forming speed: max. speed 25m/min; speed is adjustable
Hydraulic punch – cut system: automatic type, complete it one time.
Precision: ±0.2mm in total length, ±0.1mm in pitch of holes
It adopts high pressure, high speed for hydraulic system; install water cooling system; continuous produce for 24 hours.
Capacity: 5 pc/min; workpiece of T bar 3.66m in length
Space required: 19 x 4 x 1.5m (production line)
Independent power distribution cabinet, independent touch screen panel
It adopts steel sheet welding for whole production line; engine base of tamping machine and punching machine are welded first, and then processed after heat treatment.