Combined cut to length and slitting line
Combined cut to length and slitting line is a nulti-functional shearing machine, which can be used for slitting and recoilering, cut to length and stacking, and cut to length with stacking. It is so convinent fo r you to make cutting and slitting.
Take a picture of combined cut to length and slitting line for your reference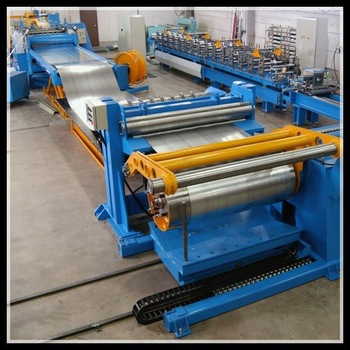 Common Applications:
• For a most flexible and more cost-effective response to customer-demanded lot sizes
• Slitting of coil material into narrower segments with successive feed into cropping shear for blank cutting
• w/o the slitting system engaged, utilization as cut-to-length line only
• w/o the straightener and cropping shear engaged, limited utilization as slitting line only
Typical Configuration:
• Pay-off reel for the master coils; with variable speed drive and loop with loop control
• Straightener-feeder
• Slitting unit with plug-in or movable circular blades
• Cropping shear with pinch roller pair
• Looping pit to balance out different lengths of the individual strips
• Stacking system for blanks; removable for operation as slitting line only
• Station with strip brake and spacer rings
• Recoiler with spacer rings and pushers as well as tilting receiver mandrel or alternatively coil car for finished coils
• Peripheral guarding with electrical interlock
Additions & Expansions:
• 3- or 4 axis turnstiles for fast exchange of slitting units
• Various hydraulic and motorized features and components to enhance capacities and level of automation
If you want to know more details, please feel free to contact with us.