Highway Guardrail Roll Forming Machine
Highway Guardrail Roll Forming Machine
Highway Guardrail Roll Forming Machine can Produce a variety of guard rails which is Mostly used in high way Road. Produced guard rails are all in high quality, Durability, Long lasting Life and they are also easy to be installed. One production Machine can produce products of a wide range of specifications, so you will surely get Profile a lot.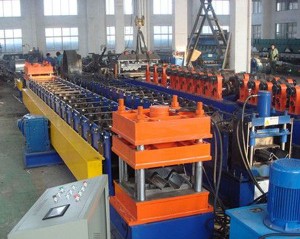 D coiler 10 ton cap.
Punching press 100 tone
Entry Gate with
Roll Forming Line with 16 station , 8 Gear Boxes & 15 H.P. electrical.
Control Panel semi auto
Cutting Unit (Hydro.)
Technical Specifications
Maximum sheet width that can be formed : 850 mm
Maximum sheet thickness in CRCA Strips that can be formed : 5 mm(M.S.)
Horizontal distance between shafts : 500mm
Number of forming stations : 16 nos.
Vertical station : 12 nos.
Total HP for Line : 23
Speed of the machine : 3 to 4 mt/minit
Size of machine : 8500 x 1600 x 1000 mm
Mandrel Uncoiler
Coil weight : 10MT Max
Coil width : 400 MM
Coil bore : 850 MM min, 1100 MM max dia.
Mandrel movement : Hydro.
Back Tension : Manually adjusted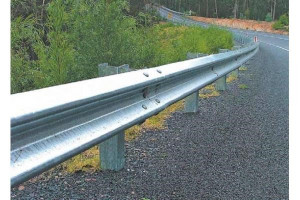 Punching press
100 tone Hydro. press
5 HP
Oil tank 150 liter
Entry Gate
Entry gate will be provided for movement of sheet to roll former.
Main Base
The main base is MS fabricated structure and adequately ribbed to minimize the distortion. It is accurately machined on top and bottom surfaces the threaded holes are made on the bed for positioning the stands.
Mill stands (Station)
The stands are mounted on the bed of the machine the line alignment can be easily done due to guide ways arranged on the bed of the machine. Each forming head consists of a fixed housing and sliding type out board housing. The mill stands will be arranged to locate shafts mounted on taper bearings. For the top shafts the bearings are housed in the cartridge type bearing blocks. The bottom shaft bearings are located in the bored machined in the housings. The bottom arbors are fixed in position whereas the top arbors along with cartridge blocks could be raised or lowered in vertical guides machined in housings.