Operating manual book for the double layer roll forming machine
Operating manual book for the double layer roll forming machine
Below picture is our new finished double layer roll forming machine
Here we share the operating manual book for the double layer roll forming machine, firstly please check below electrical drawing:
Wiring:
A machine power is three fire wires to one zero line, three were connected FireWire cable row A, B, C (1,2,3), zero line N (10) and connected to the solenoid valve common neutral, U, V, W (4 , 5,6) then press tile machine motor, U1, V1, W1 (7,8,9) connected to the pump motor, drop the knife solenoid valve control wire to K1 (11), l knife solenoid valve control wire to K2 (12) .
Simple operation:
Before transmission should automatically switch to the off position screwed (counterclockwise twist it).
 Press the button to start the pump. Note steering pump motor.
 Follow the onscreen instructions to select languages.
 Press and hold the tile machine forward, the board went to the outside edge, hold down the scissors cutting board, knife raised up by scissors upper limit.
 Screen display working status, the key clears the current number of copies; button clears the current length.
 screen display working status, length or button to select the number of copies.
 After all set to unscrew the automatic switch (clockwise twist it), the machine to work according to the set of data. After the work is completed, the machine stops automatically.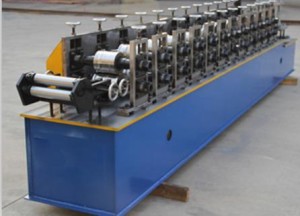 If you still need to continue to work the same length, just click the ALM key (key has cut the number of copies is cleared), the machine will be set according to the number on the screen and then work again.
If you need to change the length, automatic switch should stop. And then set the next production tasks. Also note onscreen has been cleared before the next start to cut the number of sheets automatically (ALM key press on the display).
 Automatic switch halfway down simply screwed back (counter-clockwise twist it), while continuing to work and then unscrew the automatic switch can be activated by pressing the pump.
* If the board does not match the length and requirements, according to adjust the screen, in the original amount of compensation based on the re-adjust the compensation amount plus or minus compensate. (Before correction plate length + compensation amount plus - minus compensation board after adjustment = length)
 Frequency machine deceleration distance, usually 200 mm, general machine this value is meaningless.
Any other questions about the installation of the double layer roll forming machine, kindly feel free let us know. We are sure to try our best to help you with you questions and offer you a best solution.