Z Profile Roll Forming Machine
Z Profile Roll Forming Machine
Product Description
The purlin roll forming machine has automatic fixed-length cutting,automatic punching, fast and convenient installation features
The C-purlin roll forming machine is a set of rollers to produce a variety of standard C-purlin roll forming machine, single product. Using 9 roller of relatively cheap, entry material used four roller positioning, the machine mainly by passive loading frame, leveling device, punching device, molding, after cutting device, hydraulic station, computer-controlled systems. Automatic grinding machine is broken, (flying saw cutting) punching, easy to operate and so on.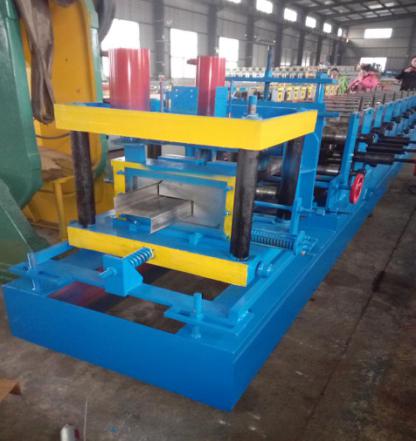 Main technical parameters:
(1) Equipment Dimension: 8000mm × 1500mm × 1200mm
(2) The pipeline full :17000-20000mm
(3) rolling range: width 80-300mm Height 40-100mm
(4) Rolling Thickness: 1.5 mm-3mm
(5) Equipment Total weight: 6000kg
(6) Electronic Control System: Japan Panasonic PLC inverter,
(7) Host Power: 11kw
(8) reducer: 8 # planetary cycloid-style, power 11KW
(9) Hydraulic System Power: 4kw
(10) (Die Cut) Power: 15kw
(11) Working speed :7000-10000mm / min
(12) Pressure of hydraulic station 10--12MPa
(13) Spindle 45 # steel, after processing the body-axis dimensions 80mm, shaft wheel for the chrome bearing steel quenching, hardness to ensure that 62 degrees.
(14) host using 400H Steel frame, 18mm thick Li-board.
(15) Chain Size: 2-inch, 12 teeth.
(16) seams, Semi-mat.
(17) 15 rows forming, 9 roller leveling.
If you need the Z purlin roll forming machine you can contact us any time。