700 Automatic shutter doors machine Products
700 Automatic shutter doors machine Products
700 type automatic shutter doors Technical Data Sheet
Equipment Total length: 10m width 1.3m height 1.8m
Motor power: 5.5Kw + 3Kw voltage 380V
Production speed: 8 - 10 m / min
Transmission: chain drive
Molding machine axis: 700 22 row axis. Large frame: 250H steel, upright plate 12mm
Shaft material: 45 # steel
Wheel Material: 45 # steel hard chrome plating
Forming part: Seiko-type wheel rotational molding, forming a good effect, reducing the friction between the wheels and raw materials, debugging convenient, fast.
CNC system: PLC panel, KEL-320 display
Counter: the use of domestic optical rotary encoder, A40S6-600-2-12-ACP
Cut: 3Kw Pumping Station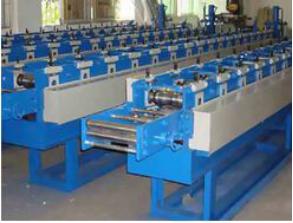 700 type automatic shutter door products for a variety of industrial plants, warehouses and other roofing production has a high peak, high strength advantage, lap install safe, reliable, waterproof and anti-riot units and strong performance characteristics, the aircraft production to solve the pressure plate conventional series pressure plate roof leakage problem, with the bagging machine can be made without beam vaulted roof.
(1) This device uses a high level of color steel automatic control software, production information management.
(2) the entire unit automation control system uses a highly integrated network, automation systems and better performance.
(3) Automatic shutter doors machine 700 also has the operation, maintenance, service and commissioning of machinery, molds advantages of easy replacement.