C purlin roll forming machine
C purlin roll forming machine
The C purlin roll forming machine, purlin processing technology belong to the field of equipment. Includes a feed station, the guide, leveling device, punching equipment, cutting equipment and molding apparatus, the molding apparatus may be C / Z-type automatic conversion, including the structural symmetry of the front roller and a rear molded member and the forming roll before conversion and after conversion component assembly, before the conversion assembly includes a power unit, a rotating shaft, angle seat and transfer roller mounted seat angle, seat angle and transfer roller mounted between the upper shaft and lower shaft through the rotary shaft rack, after the conversion assembly includes a corner seat and mating roller mounted seat angle, with the roller is mounted on the frame between the drive shaft and the lower shaft through the corner seat. The present invention may be realized C, Z-type automatic conversion and specifications automatically adjusted.

C purlin forming machine technical parameters:
Host Volume: 8 meters long and 1.5 meters wide, 1.2 meters high
Weight: about 5.2 to 5.6 t
Main motor power: 11kw
Reducer: Planetary cycloid reducer
Large frame: 350mm H-beam GB
Sprocket chain: 2 inch chain sprocket
Plate thickness: 18mm
Spindle Material: 45 # steel, shaft: after processing φ80mm, after quenching from finishing
Leveling machine: nine roller leveling, 45 # steel seamless steel pipe, finishing, made of hard chrome plated
Roll the die: all Gr15 (bearing steel) by forging, finishing, quenching (hardness of 52 ° ~ 56 °), keyway cutting line cutting, surface hard chrome plating from
Adjustment set: C-shaped steel purlin forming machine with 45 # steel seamless steel pipe finishing, zinc plated, line cutting cutting snap together
Roll Rows: 12
Auxiliary wheels: 6 rows of auxiliary wheel adjustment
Rollable thickness: (2 ~ 3) mm
Purpose: purlins
This is one of the standard of the c purlin roll forming machine.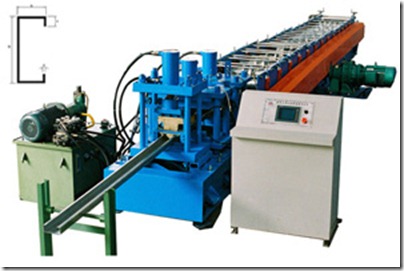 C purlin forming machine is mainly composed of passive material rack, material rack chassis, the feed import platform, screed, forming the host, punching device, forming cutting device, hydraulic station, computer control cabinet composed of several parts.
By C-shaped steel purlin roll forming machine C-purlins finished with good bending compression resistance, good flatness, automatic fixed-length cutting, automatic punching, high degree of automation, quick and easy installation. C purlin forming machine can be used as medium-sized industrial civil buildings by the main body of the force structures, such as factories, warehouses, machine garages, hangars, exhibition halls, theaters, stadiums, fairs trellis roof load and load-bearing wall support.
If you want to know more c purline forming machine you can contact me with email   roofingmachine@zhongtuocn.com
You also can visit the main metal rolling machine to know more information.