C beam machine
C-beam machine
working principle:
C-beam machine known as C-shaped steel purlin machine, mainly by passive loading rack, leveling device, punching device, after forming cutting device, hydraulic station, computer control systems and other components, the use of automatic flying saw punching and easy operation Features. The main purpose of the product can be used as the main medium-sized industrial civil buildings by the force structure.
C-beam machine technical parameters:
Device Length: 7600mm * 1000mm width 950mm * high
Power equipment: 11KW, hydraulic power station: 11KW
Roller bearing steel (GR15), annealed forged
Base with 320 I-beam
By using five on four leveling, to ensure smooth
Quadratic formula molding, to ensure product Founder and right angles, the upper size can be produced
Rolling material thickness: 1.5mm-3mm (according to user requirements and design thickness)
C steel rolling width: 80mm-300mm
Rolling speed: 8-9m / min

Use of new steel butt-regulatory sets, simple, fast, secure
C-beam machine known as C-shaped steel purlin machine, mainly by passive loading rack, leveling device, punching device, after forming cutting device, hydraulic station, computer control systems and other components, the use of automatic flying saw punching and easy operation Features. The main purpose of the product can be used as the main medium-sized industrial civil buildings by the force structure.
C steel machine with color plate molding machine is different, it is hydraulically powered, and great power, usually around 22KW, similar to shearing bending machine, general control process is complex, the use of PLC control.
C-beam machine by rolling the C purlin finished with good bending compression resistance, good flatness, automatic fixed-length cutting, automatic punching, high degree of automation, quick and easy installation. Products can be used as the main medium-sized industrial civil force structure, such as factories, warehouses, machine garages, hangars, exhibition halls, theaters, stadiums, fairs trellis roof load and load-bearing wall support.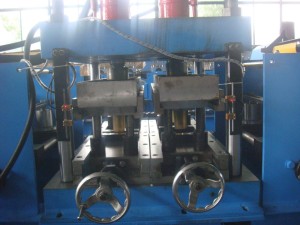 C steel machine equipment operation and precautions:
Hand put blanks, blanks taken procedures: Before using the device, check the connection is solid throughout, mounting bolts, whether or tighten the nut around the chassis lubrication should add a little oil to power-up test machine, first empty running carefully observed , with or without vibration, noise, oil window is to oil, whether coordinated motion components before you can install all the normal mold, mold installation, must be cut off, by hand moving belt or gear motor, so indexing table, and carriage rise to the highest point, it is best to use an object supported between the table and the bottom surface of the slide to slip seat natural fall, causing the accident.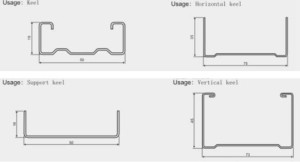 C-shaped steel machine equipment process:
From the end of the strip into the device, through a variety of roll pressed into C-shaped steel from the head sent. Traditional process, after the C-shaped steel pressing need to manually cut length, and then transported to the punching device in accordance with customer requirements size drilling, production can not be continuous, the efficiency is not high.
We also have Fully automatic Interchange C/Z purlin roll forming machine,C & U & Z purline machine
You also can contace email   roofingmachine@zhongtuocn.com