C300 purline rolling forming machine manual version
The advantages of Zhongtuo C purlin roll forming machine 1.Produce different purlin sizes without by adjusting spacers.  2.No need changing cutter for different size. 3.Easy operation, low maintenance cost  4.Infinite sizing(any size within machine range),help to save material 5.Optional Punch hole at any position of purlin web side and flange side. Taking the following drawing profile for example to show you how the machine is composed: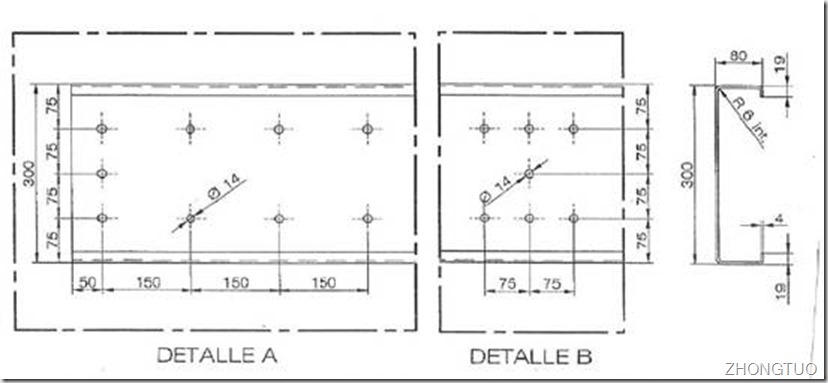 Here are some more detail parameters of the C purline machine for your reference:
Supported material:
Processing materials: Q215 Q235 Q345          Thickness: 1.5---3.0mm          Hardness: 195mpa---350 mpa Material width: 190—420mm                        Forming width: 80—300mm Height: 80--300 mm     Small leg: 15—20mm        Mid flange: 40--80mm (adjustable) Forming speed: 8m-10m/min           Molding methods: Roll forming
Decoiler
Usage: It is used to support the steel coil and uncoil it in a turntable way. Passive uncoil pulled by roll forming system. Loading capacity: 5T       Uncoiling width: 1000mm   Inner diameter: 450-550mm
Feeding
Usage: Put the raw material (steel plate) through the beach to manufacture and process,4 down and 3 up , it can guarantee that the products are neat, parallel and everything is uniformity. Material of axis: 45#steel           Number:3 up,4 down             Diameter of axis: 100mm  Forming round: Material bearing steel (GR15), quenching 60-62 ℃
Side- wheel
Side wheel Features: leveling part to add two rows of side wheel, he can not control strip deviation to ensure that products are parallel.Operating principle: manual screw adjustment, simple, convenient and fast.
Roll forming machine
Advantage:Automatic length cutting, automatic punching, high degree of automation, quick and easy installationC-beam machine is a set of rollers to produce a variety of specifications C purlin roll forming machine finished single
It consists of passive loading rack, leveling device, punching device, after forming cutting device, hydraulic station, computer control systems. This machine adopts automatic flying saw punching, easy to operate features.
C section steel rolling machine equipment of C-beam bending finished with good pressure performance good flatness, automatic fixed-length cutting, automatic punching, high degree of automation, quick and easy installation,
Products can be used as the main medium-sized industrial buildings by the force structures, such as factories, warehouses, machine garage, hangars, exhibition halls, theaters, stadiums, fairs load bearing roof garden sheds and wall level support. Cold-formed steel is the main material for the production of light steel structure, the use of steel or steel roll forming steel.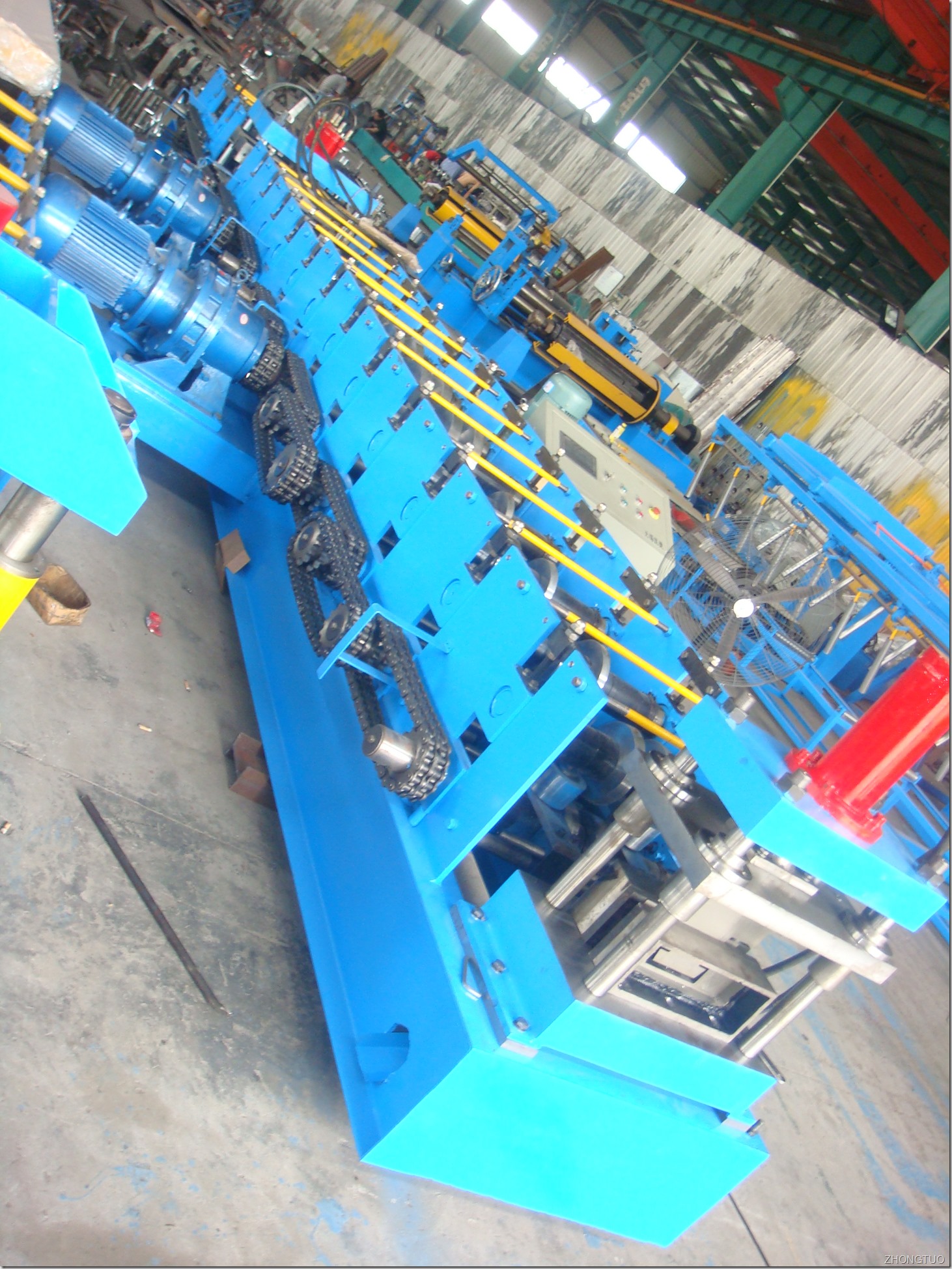 cutting part
Features: The hydraulic broken C-beam machine roll bending finished with good compression performance, good flatness, automatic fixed-length cutting, automatic punching, high degree of automation, quick installation. Main power:4kw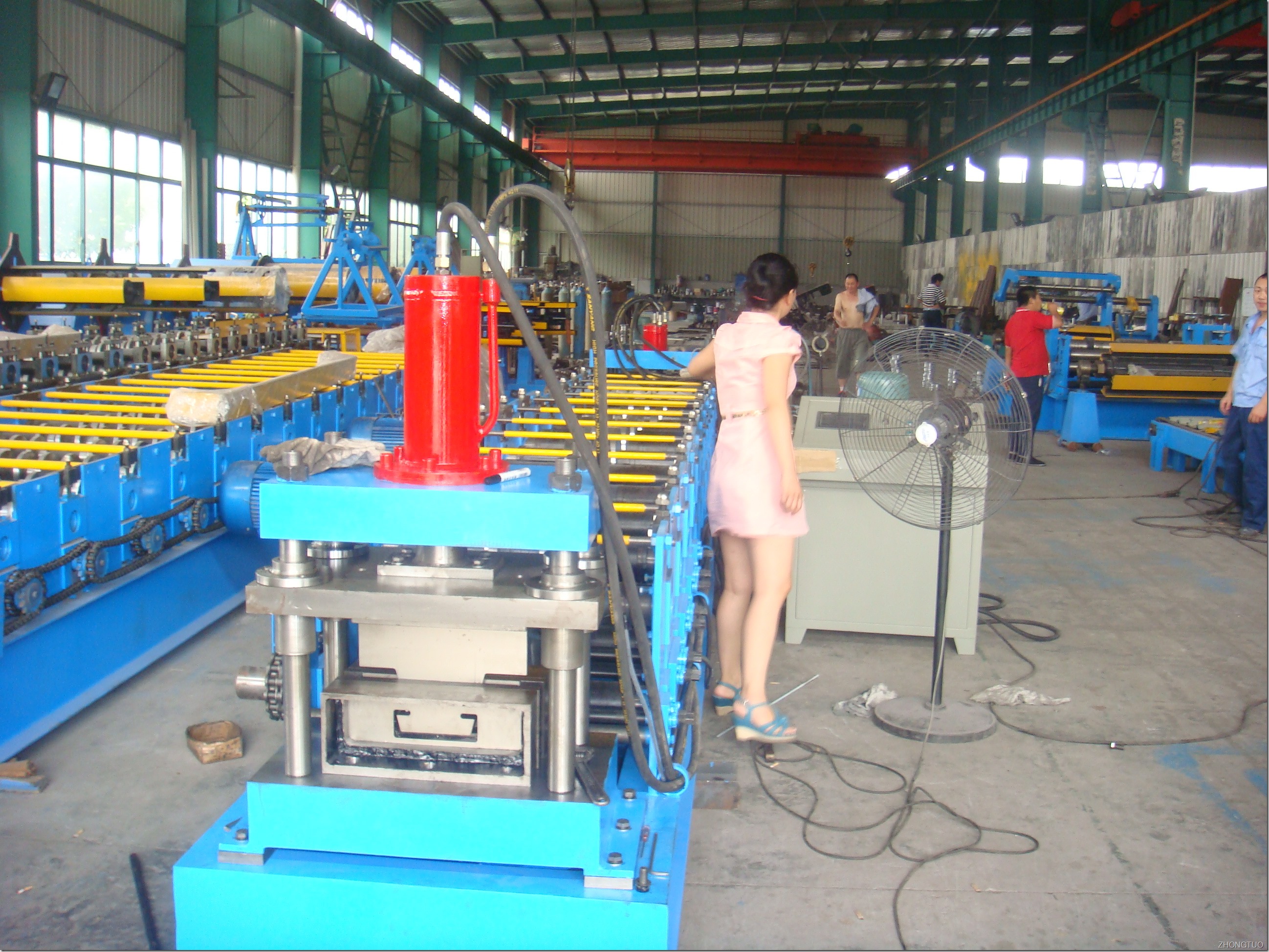 Punching part
Features: punching is added to the flying saw cutting part, by the hydraulic control, mainly in the red c-shaped steel in the hole based, can be set up according to their needs, can be washed from time to punch, simple to use, the durability
Power: 4kw (double valve)   Cylinder: 2 Material: Cr12 quenching   Quantity: 2
Hydraulic station
It is controlled by gear wheel oil pump. Afer filling the hydraulic oil into the hydraulic oil tank ,the pump drive the cutter machine to begin the cutting job
Power:3kw
Hydraulic oil: 46#
Components: The system includes a set of hydraulic tank , a set of hydraulic oil pump, two hydraulic pipes. And two sets of electromagnetism valves.
Electric Control System
1.Adopted PLC , transducer, touch panel from Mitsubishi Japan to ensure high speed with stability, precision and lifetime.
2.Other electric element are Schneider
3.Equipped with movable switch , air break, radiator, transformer & electric leakage protector for operation convenience and safety.
Counter
4.One counter gauges length,pulses,and decides length
5.Omron encoder for length measurement
Products receiving tables
6.It adopts welded steel and supported roller to transmit the products.
For this machine, if you want to know more information, please contact cnzt002@zhongtuocn.com