Ceiling T type keel roll forming machine
Ceiling T type keel roll forming machine is a professional machine to produce ceiling t type keel in batch. The T-type keel ceiling is a new type of lightweight decorative structure. It is a new type of roof system that is composed of an aluminum alloy keel as the supporting skeleton and a decorative cover panel. For making the whole set ceiling T gird, you need to make main T, cross T and wall angle roll forming machine. The machine is composed by the following elements: decoiler, hydraulic punch press, feeding device, roll forming machine, straightening device, hydraulic cutting off, cold water recycling device, pneumatic and electric control system, etc.
Here is the some drawing profiles of ceiling t type keel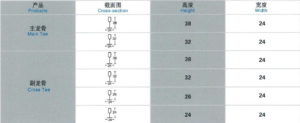 Features of  ceiling T type keel roll forming machine:
Full automatic and fast speed.
Low energy consuming, no matter from workforce or electricity.
Easy to operate, normally speaking one week then you can learn how to run it.
The main T grid made by our machine is beautiful in shape and solid when using.
Here is a picture of ceiling t type keel roll forming machine for your reference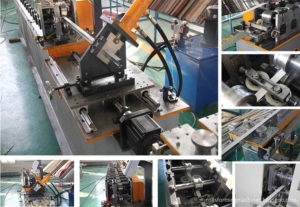 Parameters of this machine
Material thickness:0.3-0.6 mm
Roll station: 16 stations
Motor power: 7.5 kw
Productivity: 30 m/min
Type: automatic