CZ structural purlin making machine
The CZ structural purlin making machines are specifically used to manufacture multi-size C and Zpurlin channels, We manufacture Automatic and Semiautomatic type CZ interchangeable Purlin Machines according to your requirements.
The first one is Automatic Interchangeable CZ machine with the advantage of Easy to operate PLC based system used to change between C and Z purlin in an instant without any hustle.
Show you a profile and finished product of c purlin and z purlin
Parameters of CZ structural purlin making machine
Raw material: Galvanized
Material thickness:1.5-3.0 mm
Manual uncoiler capacity: 5T
Forming steps: 19 steps
Shaft diameter: 90 mm
Machine frame: 400 H steel middle plate welded
Roller material: Gcr12 steel
Shalt material: Cr40
Work speed: 15 m/min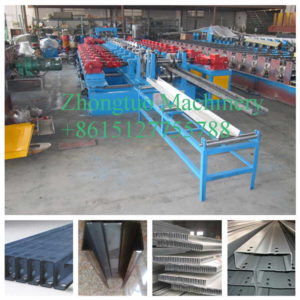 CZ structural purlin making machine is a single roll forming unit that can produce a variety of specifications of CZ type purlin products. It is characterized by automatic flying saw punching and easy operation.
The finished CZ purlin products rolled by CZ structural purlin making machine have good flatness and good flatness, automatic fixed length cutting, automatic punching, high degree of automation, quick and easy installation, and products can be used as the main body of large and medium industrial civil buildings. Forced structures, such as factory buildings, warehouses, garages, hangars, exhibition halls, theaters, stadiums, bazaars, roof load bearing and wall support.