Metal c stud used in drywall
Metal c stud is  used as the vertical support in drywall, available in a range of widths, lengths and thicknesses depending upon the walls requirements for strength, height, impact resistance and sound insulation. Many people prefer to use it because it has so many features.
Features of metal c stud
1, its own lighter weight. metal c stud is a lightweight material.
2, excellent fire performance.
3. The construction efficiency is high.
4, the structure is safe and reliable.
5, good impact resistance.
6, good seismic performance.
7, can improve the insulation, sound insulation effect and indoor utilization.
Paramaters of metal c stud making machine
Machine size:3800х1200х1400
Weight of main part: 3 tons
Roller fixer : Guide column
Memorial arch frame type
Frame thickness:25mm
Drive mode: gear
Material of rollers: GCr12MoV
Material of shafts: 45# steel with tempering
Diameter of shafts: φ40mm
Number of rollers : 10 rollers
Main power: 3kw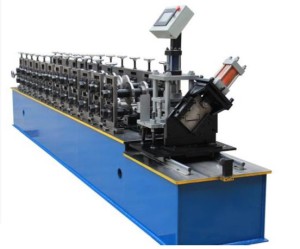 Contact us
We will provide you the 24/7 service, so if you have any requirements, please feel free to contact with us.
Email: roofingmachine@zhongtuocn.com
Whatsapp: +8615127755788 and +8613733275488