CZ purlin machine
CZ purlin machine can make the CZ purlin with a stable speed and the  finished product has good tension and bending machine, flatness is good, pressure tile machine. The CZ purlins can be used as the main force structure of large and medium-sized industrial and civil buildings.
The advantages of CZ purlin machine automatic size-change type are as follows:
1.Produce different purlin size without changing rollers or spacers.
2.No need changing cutter for different size.
3.Easy operation, low maintenance cost
4.Infinite sizing(any size within machine range),help to save material
5.Optional Punch hole at any position of purlin web side and flange side
Rolling Forming System
main motor type : phase asynchronous motor
motor power: 15KW
speed of forming : 10-15m/min
material of roller : GCr15
16 groups rollers
material of main shaft : Cr15
diameter of main shaft: ø76mm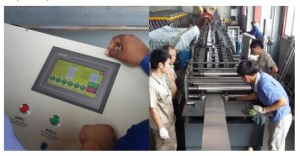 Hydraulic Punching & Cutting
Punching Type: Hydraulic Punching
Cutting type: Hydraulic cutting
Cutting material: Cr12
Hydraulic power: 5.5KW
The thickness of the CZ purlin machine can be made very thin, and the production process is greatly simplified and the production efficiency is improved. It is possible to produce cold-formed steels of various profiles and different materials which are difficult to produce by a general hot rolling method and have a uniform wall thickness but a complicated cross-sectional shape.