Some details of the C-shaped steel machine cast quality and efficiency
Some details of the C-shaped steel machine cast quality and efficiency
C-beam machine is a set of rollers to produce a variety of specifications C-shaped steel purlin machine finished single roll forming machine.
C steel C-shaped steel machine rolling machine finished with good bending pressure performance good flatness, automatic fixed-length cutting, automatic punching, high degree of automation, quick and easy installation, the product can be used as the main medium-sized industrial and civil buildings force structure, such as factories, warehouses, machine garages, hangars, exhibition halls, theaters, stadiums, fairs trellis roof load bearing walls and flat support.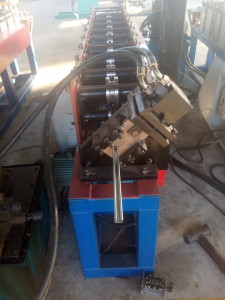 C-beam machine is mainly composed of passive loading rack, leveling device, punching device, after forming cutting device, hydraulic station, computer control systems.
C steel flying saw punching machine with automatic, easy to operate and so on.
If you need this type machine you can contact us with email
roofingmachine@zhongtuocn.com