Drywall roll Forming Machine
Drywall roll Forming Machine
Drywall roll Forming Machine is a vertical member in the light frame construction techniques called balloon framing and platform framing of a building's wall. Drywall stud roll forming machine is the essential for its production.
Nearlly all the light keel connection accessories are made by punching machine. Those production lines are composed by decoiler, coil feeder and punching machine. Here are some types of light keel connection accessory pictures for your reference.
Entry Gate with
Roll Forming Line with 9 station , 1 Gear Boxes & 5 H.P. electrical.
Control Panel semi auto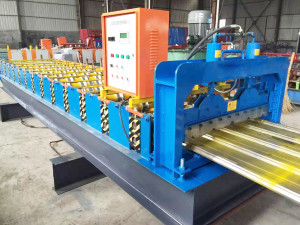 Cutting Unit
Technical Specifications : (Plate body)
Maximum sheet width that can be formed : 600 mm
Maximum sheet thickness in G I Strips that can be formed : 1 mm
Vertical distance between shafts : 100 mm
Horizontal distance between shafts : 190 mm
Number of forming stations : 9 nos.
Vertical station : 7 nos.
Total HP for Line : 5 (ABB)
Speed of the machine : 4mt/minute
Size of machine : 1600 x 800 x 1100 mm
Mandrel Uncoiler
Coil weight : 2 MT Max
Coil width : 600 MM
Coil bore : 450 MM min, 510 MM max dia.
Mandrel movement : Manually adjusted
Back Tension : Manually adjusted
Tooling
One set of Tooling with EN31 grade will be from imported material suitable for your machine as standard supply. The same is involved in operations like rough machining, keyway, rough profiling, bore grinding, profile machining and inspection with final template for above.
The more drywall roll forming machine information you can visit our main website.
Our email  roofingmachine@zhongtuocn.com