Shutter doors machine
Shutter doors machine
Shutter door forming machine is to produce rolling doors of major equipment, galvanized steel or different colors of color steel or aluminum as raw materials village, products colored steel plate gate brilliant color, do not fade, do not rust, fire cut off, not easily deformed, high strength aluminum alloy doors than 3 times.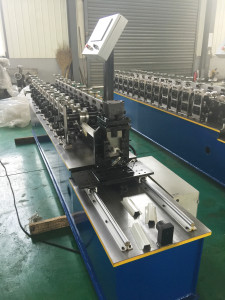 Product Features:
1. The device uses a high level of automatic control software, production information management.
2. The entire unit automation control system uses a highly integrated network, automation systems and better performance.
3. Has the operation, maintenance, service and commissioning of machinery, molds advantages of easy replacement.
4. The quick and easy installation, can be quickly mounted on the flange, followed by nailing can.

Applications:
The device is suitable for commercial facade, warehouses and supermarkets, garages, shopping malls, industrial enterprises and other public places or homes, especially in the larger openings, inconvenience to local ground installation door body, easy to play, fast open role.
If you want to know shutter door roll forming machine you can contact us with email  roofingmachine@zhongtuocn.com