Fully main T bar rolling forming machine- newly update
Full automatic main T bar rolling forming machine could help you to make T grid without person intervention. From roll forming to punching, this machine could make all perfect product with fast speed. The machine could make main T grid in the speed of 25 m/min. There is a T bar profile for your reference in the followings. T bar light steel is a new type of building material. With the development of modernization in China, T bars are widely used in hotels, terminal buildings, train transportation stations, railway stations, playgrounds, shopping malls, factories, office buildings, and old buildings. Renovation, interior decoration settings, ceilings and other places.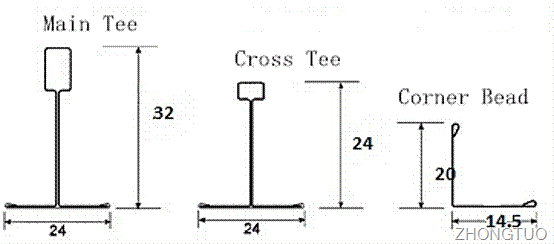 Features of T bar rolling forming machine:
1. Full automatic and fast speed.
2. Low energy consuming, no matter from workforce or electricity.
3. Easy to operate, normally speaking one week then you can learn how to run it.
4. The main T grid made by our machine is beautiful in shape and solid when using
Components of T bar rolling forming machine:
1. Double head decoiler for different types coil.
2. Main roll forming machine.
3. Hydraulic punching and servo cutting device.
4. PLC control station.
5. Runout table.
Working process of full automatic main T grid roll forming machine:
Uncoiler—Entry Beach—roll forming machine—punching—cutting to length—run-out table.