The advantages and disadvantages of different decoilers
We can produce different types of decoilers for you, we are professional manufacturer of the decoilers, we have produce the decoilers for more than 17 year. Our decoiler quality is very good and we can design and produce the decoiler for you as your personal requirements. So if you have the demand of the different decoilers you can let me know.
Normally the decoilers are used for the cold roll forming machines, some used for the roof tile roll forming machines and some used for the purlin roll forming machines and keel roll forming machines. The function of the decoiler is to support the steel coils and to feed the material to the forming machines.
There are manual decoilers and hydraulic decoilers, the hydraulic decoilers have more functions than the manual decoilers, the hydraulic decoiler is electric transmission and hydraulic expansion, and at the same time the price is higher. Normally the manual decoiler is enough for the production, because it is cheaper, this will save a lot of money for the buyer.
Normally the decoiler for the roof tile roll forming machine is 5 tons loading capacity and the purlin roll forming machine is 3 tons loading capacity, and for some keel roll forming machines, 1.5 ton loading capacity is enough. Our decoiler are customized, so if you want to buy one decoiler, you just let me know where you want to use this decoiler and the detail requirements of the decoiler you demand, then we will design and produce the decoiler for you.
5 tons hydraulic decoiler: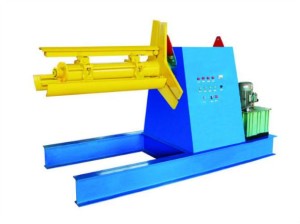 10 tons decoiler with a carry car: