Metal embossing machine
Embossed lines are mainly for producing embossed aluminum and steel roll. Metal embossing machine is suitable for metal sheet, particle board, decorated materials, and so on. The pattern is clear and has strong third-dimension. Steel plate embossing machine can be assorted with the embossing production line
The main parts of this producing line
Uncoiler, embossed host, recoiler, electrical control station
Here is our pic for your reference: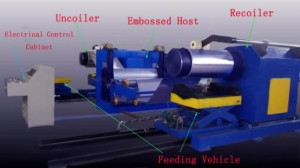 Detailed parameters of this metal embossing machine line
1. Roller specifications: DIA450~500mm, width: 1000~1800mm.
2. Hardness of roller surface: HRC60~63.
3. Pattern processed by laser engraving.
4. Pressure mode: hydraulic 50~100T.
5. Working speed: 1~20m/min, speed changed by frequency converter .
6. Voltage 380V/50Hz/3PH
Here are some pics of embossing pattern for your reference:
The parameters of the Decoiler、Recoiler parameters :
1、Machine size:4100×1200×1800mm
2、Style:Φ500-510×1350mm;
3、Loading weight: 2500Kg to 5000kg;
4、Cylinder size expansion: Hydraulic cylinder control
5、Motor:15Kw Frequency conversion motor SIMENS
linear speed 0-20m/min;
6、RollLoading:Hydraulic Cylinders
Shearing system
Type of cutting power: Hydraulic
Cutting balde material:  Gcr12, quencing at 58 to 62 degree to make sure hardness and long time to use
Cutting tolerance:±1mm
Cutter blade more pair we will give one more as spare part
Cutter quantity: 1
Working pressure:20 MPA
Note: we add this before the recoiler, for after embossing, the coil change to thick and the diameter will be quiet big. For example, maybe the coil just 100 meter, the outside diameter will be quite big. So this is nessary.
If you want to know more details, we also can provide it for you. We also can customize the machine for you according to your requirements.